Jasmine is an internationally respected Intuitive Counselor with clients across the five continents. She has been helping thousands of people since 2001. She has been constantly awarded best Intuitive Counselor in the psychic guides.
Jasmine excels in Crisis Management at a personnal level, within a couple, in your carreer or for your Business. As a therapist, Jasmine will reveal problems you are not yet aware of.
She loves her work and knows that helping you is her highest purpose on earth.
Jasmine is able to contact people who left earth for other realms, and deliver messages that loved ones are willing to give you.
I have consulted with Jasmine twice thus-far and can whole-heartedly reccomend and give validation to her unique gifts. She is low key, reassuring and I feel she simply speaks her truth without reservations or dramatics. I have consulted with many professionals in various modalities of therapy and she hold a space like none other I have worked with. Beyond accurate predictions, she connected me with abilities and insights of my own that have begun to change my perspectives on life and purpose. I look forward to a long relationship with her and her guidance.
J'ai consulté Jasmine il y a maintenant 4 ans pour la première fois. Elle a son cabinet à Paris dans le XVI ème et vous pouvez si vous le voulez, trouver ses coordonnées sur son site internet.
Je dois dire que c'est une voyante très très douée. Elle a su tout de suite ce qui m'amenait à la consulter et m'a dit des vérités sur ma vie et mon parcours. Elle m'a aussi ouvert les yeux sur mes facultés et m'a dit « je vous vois travailler dans la lumière ». Sur le moment, j'ai plaisanté car je n'ai pas voulu prendre cette prédiction dans son sens actuel mais j'ai vite compris ce qu'elle m'avait dit. Je précise qu'elle accepte l'enregistrement de la consultation, ce qui permet d'écouter et de ré-écouter ce qu'elle dit et c'est très important car elle parle vite. Elle est guidée par ses voix et je peux dire qu'elle est du même style qu'Alexandra. Elles reçoivent des messages de leur guide et nous les retransmettent.
Ce que j'ai aimé chez Jasmine, c'est sa façon très directe de me dire les choses.
J'ai beaucoup de respect pour ce type de clairvoyance car je ne travaille pas sur le même registre et je sais comme il peut être difficile de vivre avec ce don propre.
Jasmine's reading is really insightful and accurate. She describes present and future situations that are spot on with lots of details. Her reading method is different from any other tarot readers I've seen. She uses an old deck and doesn't need to think twice before analyzing a situation or a person. It is very impressive. I've been one of her client for almost 2 years and I've been amazed by her predictions. She helped me a lot when my life was falling apart and she is an amazing support when facing challenges. Jasmine is friendly, attentive, straight forward and always available when you need some help. I never feel rushed when we have a session and I can ask all the questions I need an answer for. Whenever I leave the session I feel full of energy and more confident!
My sessions with Jasmine are always sensational, eye opening, and revealing. She is systematically just right on. Her insights are impeccable and her ability to articulate them concisely enabled me to move forward in all areas of my life. Her guidance have helped me open doors I didn't know existed. Her loving presence brings you into safe and sacred space the minute you sit with her. She communicates with great compassion and a sense of humor that puts you at ease immediately. I always leave Jasmine's session with a new found sense of empowerment and confidence.  I highly recommend Jasmine for anyone wanting clarity in their lives.
Jasmine is Incredible! I have been getting readings from her for the past 2 years and every time I leave a session I am a better person. She is warm, kind, patient and says just the right things to what you are going through in your life. Jasmine has predicted things about me in regards to work, family and personal matters where she is always spot on.She does not only predict what is going to happen but also gives her expertise guidance. I have been to many Intuitive Counselors but I have found that Jasmine truly cares for her clients and wants the best for them.
I have been working with Jasmine for 14 years, and she has been a instrumental component to my career success and sound mind.
My work is very important to me and to the people of my nation, and can also be stressful as the fate of many people can ride on my performance, and the decisions we make at the Senate as a whole, in addition of a stressful political competition and lack of trust and unfaithful "so called" friends.
Jasmine's guidance has been invaluable, and she has given me a sense of unwavering confidence and clarity, which allows me to provide the utmost value at work, while also being my best self at home.
When I learned about the innovative new program that COACCEL offers, I immediately enrolled, and I am very happy I did. It's been a wonderful investment in myself and therefore beneficial to the people as well. I highly recommend COACCEL and the work they do.
When my path have cross Jasmine's clairvoyant eye and spirit, I knew my life would change for the best… unforgettable meeting with her brought me peace and faith for my future. Thanks Jasmine
For four years, i regularly meet Jasmine in her office in Paris.
I especially appreciate her ability to listen, her kindness and her humanity.
But its features do not prevent her from being honest and sincere when it comes to addressing unpleasant events .
I am regularly amazed about the accuracy and precision of hers forecasts . Without being directive , she knows how to guide me to complete my projects, either personal or professional .
Jasmine has been giving me readings for years, and so far, everything from the readings has proved of fruition. I use notes from our session as a guideline to reflect and look back at, and everything she mentioned in the readings is accurate. It guides me in my decision about my work and life. I must say that she is extremely talented and blessed with a great gift. Also, Jasmine is more than a psychic she is someone who truly cares for her clients and goes above and beyond to support them. She is always there when I need her, which is a rare quality to find in people. I feel inclined to express my deep gratitude for her wonderful gift and constant support. I highly recommend her to everyone who's interested.
Jasmine,
EXCERPT:
«Go see Jasmine. She is kind and grounded» a friend told me. So I called Jasmine for an appointment. But she was not able to see me before returning for a trip in a month. Directly: "You have a problem. Allow me, If you want, to bring you an answer to your question right away . "Without physical support (card or crystal), solely on the vibration of my voice, she responded precisely to the problem that was bothering me. Months have passed, and I have fallen behind in writing this guide. Meanwhile, Jasmine was back. I made ​​an appointment face to face at her office, and there I was just dazzled. Jasmine leaves me hardly any time to sit in front of her that she already started. She handles her cards without looking at them and depicts my professional life and relationships with great detail and depth. I'm speechless. She gave me an outline of my future that came true in the following days for some of the events. I sent her friends, everyone was captivated by her gift and class.
One of my great discoveries.
Anne Placier.
Rating :

EXCERPT:
Consults in French, English or Spanish.
I heard many praises about Jasmine. I've selected among other clients, Stéphane, a young entrepreneur who previously checked all the three stars mediums of my previous guide, to detail his experience: «When one has found the right intuitive counselor, faithfulness is a must. For my part, I consult Jasmine every four or five months. I developed a strong trust relationship with her, she is my life coach, and gives me a kind of roadmap for the coming months, while also projecting me and showing me a more distant future. She is so precise, it saves me a great amount of time and let me avoid wrong steps. She is of great help when it comes to negotiations. She will tell if I need to deal with one company rather than another. The same applies  to projects or employees, she will tell me which one I should go for or avoid. When sometimes I go against her advice, I get into problems. On my personal life side, she "saw" my current wife three years before I met her. Her personality, her looks, the fact that she was a foreigner, the way we were going to meet, the place of the meeting. And also the turmoil at the beginning of the relationship. She told me everything. I thought that such details would lead to lack of spontaneity on my side. But time passed and I forgot about her reading until the moment I met my wife. Knowing the beginnings would be difficult helped us overcome obstacles, especially when each event took place as described.
Jasmine is my compass, not a guru. I'm down to earth, I manage a company, and I can assure you that intuitive counseling, when you get to use it, becomes really helpful. "In my case, Jasmine has had amazing intuition flashes. Among many other situation descriptions: "The man you'll meet soon lives in a house. He will  hire you and will quickly set up a large desk in an entire room for you to work with him in the best conditions. I also see constantly cram your belongings into his car. "When I moved in the first time, I took all my documentation and fill his car with bags", I remembered Jasmine's session.
Rating :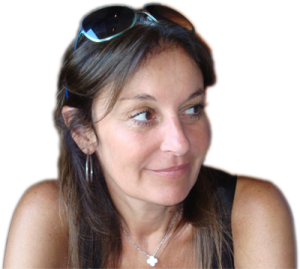 Jasmine
Intuitive Counselor, Psychic, Medium
Jasmine is direct and fun, her energetic readings are eyes opening and heart enlightening.
Jasmine will meet you in San Francisco, Los Angeles or Paris for a Face to face session in English, French or Spanich.
Phone and Internet Sessions are also avalaible.
Jasmine Intuitive Coach